Custom Solutions
XCAM's reputation is built upon its ability to develop and build custom solutions. The solutions shown below represent just a few examples of some of the custom systems which have been produced in the past or which are currently under development.
LARGE CAMERA FOR DESY FLASH XFEL STUDIES
Custom design of a vacuum peltier cooled camera to house 3 off CCD44-82 detectors.
CUSTOM CCD FOR X-RAY FREE ELECTRON LASER EXPERIMENT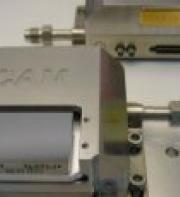 Non-imaging X-ray spectroscopy with a swept charge device. Swept Charge Devices (SCDs), such as e2v technologies CCD54 and C1XS devices with four CCD54 detectors in on one ceramic package (shown in the images below), offer a low cost, large area, fast read-out alternative to the CCD, for situations where spatial information is not required. These devices are designed to operate at temperatures that can be achieved using Peltier cooling, so that liquid nitrogen is not required, making them a good replacement for the Si(Li), PIN and SDD devices.
SCDs are:
Low cost
Efficient over the 0.5-10keV band
Large area, up to 400 mm2
Low noise; typically ~5 electrons rms, giving 80 eV FWHM at 1keV and 130eV FWHM at 6keV
High SNR; peak to background ratio of 4000:1 with collimation
A suitable replacement for Si(Li), PIN and SDD devices
Able to be operated warm (without LN2)
Fast to read-out
The figure below shows a spectrum obtained from vanadium using an SCD, showing the good peak to background of in excess of 3000:1 (without collimation).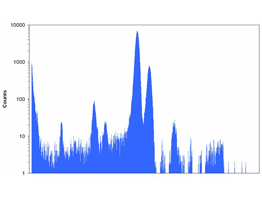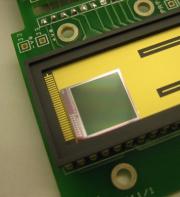 ,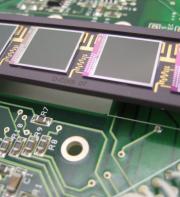 ,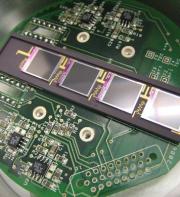 ULTRA-FAST, MULTIPLE-WINDOWED SPECTROSCOPY
XCAM has developed a camera system for high frame rate multi-fibre optical spectroscopy. In this system, up to 16 user-selectable windows are defined on the CCD image and sampled, providing up to 3200 spectra per second (16 windows x 200 frames per second).
This technology was initially developed for fusion reactor diagnostics and was used to obtain the image below. The image depicts a dispersed spectrum (y-axis) of emission from a He-Ne laser as a function of time sampled at 5ms intervals (x-axis).
TIME-RESOLVED SPECTROSCOPY
The CCD is required to detect a tiny amount of exponentially-decaying light, and to operate in a mode which permits the decay constant to be determined. The resulting spectrum's temporal resolution is around 2 microseconds.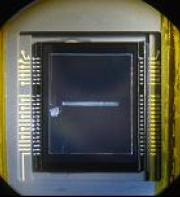 CCDS WITH SCINTILLATORS FOR X-RAY STUDIES
A CCD with a scintillating fibre-optic stud attached for hard X-ray detection.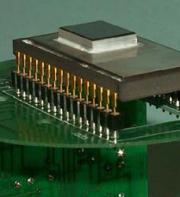 Ongoing project to build a customised Multi-EMCCD camera system for a NASA sounding rocket due to be launched in 2017.
XCAM offers detector consultancy services including selection, characterisation and optimisation of CCD detectors. Please contact us for further details.
We have strong links with CCD chip manufacturers such as e2v technologies as well as the e2v Centre for Electronic Imaging (part of the Planetary and Space Sciences Research Institute at the Open University), the Science and Technology Facilities Council (STFC) and the European Space Agency (ESA). These academic and industrial links allow us to retain our innovative engineering capability and access facilities around the world.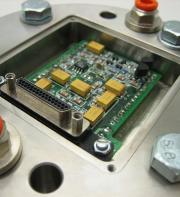 ,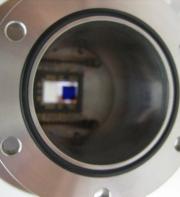 ,