XCAM WIN PRESTIGIOUS NATIONAL INNOVATION AWARD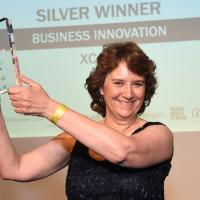 28/09/2021
XCAM Ltd, based in Northampton, has been named SME Business Innovation 2020/21 Silver Award winner at the prestigious SME National Business Awards in a field of 15 other finalists, in recognition of its outstanding contribution and innovation in the field of digital imaging systems.
Karen Holland, CEO of XCAM said "We are delighted to have won this Innovation Silver Award having been finalists last year, it provides recognition of the challenging work the whole team have put in over the last few years and the innovations we are developing being recognised as truly ground-breaking, unique and making a positive difference."
Karen continued "We have been experiencing significant growth in sales from around the world, with our busiest year ever, including projects with the European Space Agency (ESA); the work associated with the delivery of a system for the Roman Space Telescope/NASA project in partnership with the Open University; winning a Space Research and Innovation Network for Technology (SPRINT) grant to work with the University of Leicester on the development of Convolutional Neural Network for a space project; and delivery of a new system to the Institute for Solid State Physics, University of Tokyo; plus many new high-profile orders. Our success is based on our worldwide reputation and outstanding knowledge, including the ability to solve complex problems."
XCAM designs and manufactures highly specialized custom and low-volume complex digital camera systems for challenging scientific, environmental and space applications and recently celebrated 25 years in business. They are one of only a few companies in the world to offer complete imaging sensor camera solutions.XCAM have a worldwide reputation for their ability, reputation, expertise, and outstanding knowledge in the field.