XCAM RECOGNISED FOR OUTSTANDING ACHIEVEMENTS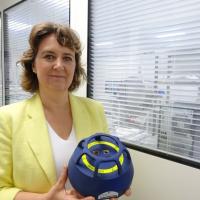 27/08/2020
Northampton based XCAM, is celebrating 25 years in business with several highly prestigious innovation award nominations. The company, designers and manufacturers of specialized digital imaging systems for challenging scientific, environmental and space applications, has also seen a significant growth in sales, including new contracts with the European Space Agency (ESA).
XCAM are finalists in the National SME Business Awards 2020 for the Business Innovation Award category. Shortlisted for the Northampton SME Business Awards 2020 in the Business Innovation Award category and shortlisted for the 2020 Manufacturing Innovation Award for its space cameras at the Business Insider Made in the Midlands Awards (XCAM won this award in 2017).
Karen Holland, CEO of XCAM is delighted by the outstanding achievements "I am really proud of the whole team, for all the hard work and the dedication they have contributed. Who would have thought 25 years ago, setting up the business in our spare room at home, that now we would be in a 7,000 sq. ft building with two clean rooms, have 15 staff and approaching 1.5 million turnover all through organic growth."
The company's significant growth in sales and busiest year ever, has been based on its worldwide reputation and outstanding knowledge in the field of digital imaging systems, including the ability to solve complex problems.
Some years ago the ESA, decided that they were not satisfied with existing technologies for Particle Fall-Out (PFO) monitoring and they wanted to develop a new instrument that could measure contamination all the time, remotely, and without human intervention to give continuous measurements. XCAM won the competitive tender to develop a novel prototype instrument which was delivered in 2017. This provided the background to the achievements of the last 12 months.
In January, XCAM signed a new follow-on contract with the ESA to start development of flight-qualified units over the next 2 years. This will involve them developing a unit which is not only suitable for surviving the unfriendly launch conditions which the Arianespace Vega launcher will subject the unit to, but which can also survive in space for long enough to send the launch data back down to the earth for later analysis. The new instrument, will measure particulate fall-out inside the rocket environment during a real rocket launch and provide ESA with critical information about the launch environment which their payloads experience – information which ESA has never previously had access to.
Rocket launchers currently have no way of providing evidence to their customers that they keep the customers' payloads clean during and shortly after launch, despite charging large sums to launch their payloads. The potential for XCAM to ultimately sell flight-qualified units, for launchers to prove their environments is huge.
Medilink press release covering the item.