PRESS RELEASE: XCAM's PFO 1040 real-time surface particulate contamination monitor product launches at 2018 Birmingham Cleanroom Technology Conference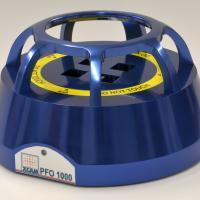 16/05/18
Today at the 2018 Cleanroom Technology Conference, XCAM Ltd. announce the launch of the PFO 1040 real-time surface particulate contamination monitoring system. Live demonstrations will be performed at XCAM's exhibition booth at the conference where customers are invited to register their interest for the purchase of a PFO 1040 unit, which can also be purchased via the XCAM website for those unable to attend.
Time-Resolved Automatic Particulate Monitoring
The PFO 1040 offers cleanroom operators a novel solution to tracking particulate contamination down to the five-micron level by using a robust and reliable direct imaging technique (patent pending). A bespoke algorithm analyses particles and fibres which settle on the 4 cm2 sensor surface and reports information such as size, shape, particle/fibre classification and particle size distribution, as well as allowing individual particulates to be interrogated within the resulting image. This method allows sample rates of 10 measurements per hour, allowing contamination events to be reported in real-time and consequently improving manufacturing processes and production yields. The automatic nature of the instrument reduces costs as it removes the need to retrieve and analyse samples manually, with the additional benefit of the instrument performing in-situ analysis which minimises disturbances to samples allowing a representative snapshot of particulate contamination levels. Particulates are particularly problematic for the aerospace, semiconductor and automotive industries to name a few where the powerful features of this instrument have the potential to disrupt current best practices in the field.
                "We're really excited about the release of our latest innovative product.  The PFO 1040 has the potential to provide cleanroom operators with a new high-resolution, real-time method of measuring particulate deposition levels, as well as getting far more information regarding particulate types. This will enable detailed tracking and investigation of contamination trends, allowing processes to be improved and yields increased, whilst reducing labour costs." said Karen Holland, CEO at XCAM.
Spin-off from European Space Agency (ESA) Contract
The initial concept for the PFO 1040 instrument was born out of a need for the space industry to develop a real-time, continuous and remote method of tracking particulate contamination produced within the fairing of a rocket, and around sensitive instruments, prior to and during the launch phase.  Characterisation of the particulates would allow sources to be identified and failure analysis to be performed, as well as the monitoring of particulate levels relative to contamination budgets. The European Space Agency therefore funded a contract for the development of such an instrument which XCAM Ltd. Successfully bid for and won. The contract successfully came to completion in January 2017. Recognising that there was a need for such an instrument in terrestrial-based clean rooms and following on from the success of the ESA prototype Space PFO monitor, XCAM undertook developments to adapt the ESA prototype for commercial use in clean rooms.
PFO 1040 Availability
PFO 1040 is now available by submitting an enquiry via the XCAM website or by e-mailing the XCAM Sales Team at sales@xcam.co.uk.