BLOG POST: Michael's Summer Internship at XCAM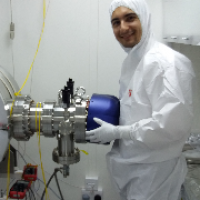 10/08/18
Michael, a third year undergraduate Engineering master's student from the University of Warwick, has spent his summer undertaking an internship at XCAM. As his internship comes to an end, here's what Michael had to say about his experience:
"My time at XCAM has been both thoroughly enjoyable and a highly educational experience. The knowledge and skills I have acquired over these past six weeks from professional engineers are invaluable. The team at XCAM are like a family and I always felt welcome working alongside them. I started this internship expecting only to be working on FEA simulations of a PFO monitor to aid in its flight qualification, but have in actual fact been involved in a variety of projects ranging from designing a rig for testing the quantum efficiency of CMOS sensors, to researching ESA's different launchers to aid the design of the PFO sensor.
Although I am now well versed on ESA's launch systems and procedures, the majority of my time here has been spent designing a new iteration of the PFO monitor, which is intended for eventual space-flight. Creating this 3D model has expanded my knowledge of real-world engineering and faced me with practical challenges, the likes of which are not often encountered in academia. Whilst I tried to be as independent as possible, help was always at hand in the form of my fellow engineer Fraser, whose SolidWorks expertise was always available. I had never considered some of the technicalities that must be considered when designing a device for space, such as having to vent all screw holes to allow trapped air escape. Designing a model of such detail is something I have never previously done. It required me to not only pull from my mechanical engineering knowledge, but also forced me to learn some electronic engineering, something I have previously had little experience with.
I am grateful to the entire XCAM team for having me these past six weeks, but especially so to Karen, XCAM's CEO, for giving me this opportunity, and to Fraser for vastly improving my SolidWorks skills."
Michael will return to the University of Warwick in September to complete the final year of his undergraduate studies where he will be working on the School of Engineering's WUSAT cubesatellite mission, a three-unit Cubesat to be launched into Low-Earth Orbit via the International Space Station with the objective of monitoring wildlife movement patterns. XCAM are collaborating partners to the WUSAT team following an introductory meeting earlier this year; we look forward to following the progress Michael and the rest of the team make over the next academic year.