Blog Post: Eliot's Summer Internship at XCAM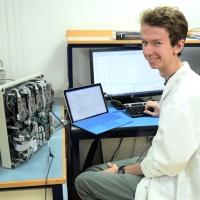 08/09/17
Eliot, a Theoretical Physics undergraduate student from University of Birmingham, is now in the final week of his eight-week summer internship working at XCAM. Eliot has made a great addition to the XCAM team during his time here. Here's what he had to say about his experience:
I've had a very enjoyable experience at XCAM, learning a lot about what it's like to work at a technology business whilst also developing my computing/electronics skills. Everyone was welcoming and fun to work alongside, and as a small business there is a relaxed atmosphere - I was also here for the annual golf tournament which I had a great time at despite my lack of skill!
The main project I worked on during my eight weeks was to develop Python code to control the OGRE camera system. This involved converting pieces of code from other languages, and putting it all together into a program which can be used to get images from the camera. It was interesting to learn how the OGRE system operates, and undertaking a programming project of this scale has given me confidence developing code in the future. Additionally, I had the chance to help make some posters/ information sheets about the projects XCAM is working on (including OGRE). This acted as a break from coding, and helped me learn more about what XCAM does.
One of the biggest challenges was testing and debugging the code I'd written, as communicating with hardware isn't something I've had much experience with. Independent research was encouraged, which is good practise to have, but help was available if needed. I applied for this internship because I was interested in learning more about scientific computing whilst also contributing to some innovative science – OGRE will be demonstrating a style of instrument that could potentially go on to search for baryonic filaments between galaxies. I'm very grateful to XCAM for giving me this opportunity, thank you!
Thanks, Eliot, for your all your hard work and contributions! Good luck with the rest of your studies!